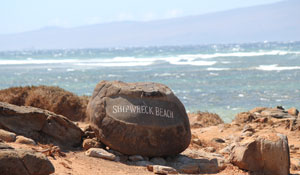 Many say there is little to do on the island of Lana'i, but as I recently found out there is a lot of things to do especially in the midst of the outdoors, if exploring nature and seeing the beauty of the land is one of your enjoyable pastimes.
My next adventure on my VisitLanai2012 tour is to an area called Kaiolohia, also known as Shipwreck Beach, which is located about 25-30 minutes North of the small town of Lana'i City and is easily accessible by 4×4 vehicle or even from seaside via a boat excursion.
Liberty shipwreck at Shipwreck Beach
Photo Credit: 808Talk
Not only is this a remarkable site to view an old 1940′s era oil tanker (Liberty Ship) who now calls the coral reef of Shipwreck Beach home, but you can also venture out and explore to find Hawaiian petroglyphs and even get an amazing panoramic view of both Moloka'i and Maui on a clear day.
The road to Shipwreck Beach
Photo Credit: 808Talk
When deciding to explore down to Shipwreck Beach, remember that the only way to proceed by vehicle is to use a 4×4 and when doing so be sure to adhere to the precautions and safety tips provided by your 4×4 rental service of which there is really only one major provider (4×4 Jeep Safari) who provides detailed route information for Kaiolohia and a handful of other 4×4 routes on Lana'i.
Park and walk to Shipwreck Beach
Photo Credit: 808Talk
I took in the view of Shipwreck Beach via the 4×4 option, but if you prefer a water approach you can explore the coast line via a Safari Boat Excursion that leaves from Maui's Lahaina Harbor and sets out to circumnavigate the island of Lana'i cruising by Shipwreck Beach along the way (video).
Shipwreck Beach Precautions/Things To Remember:
Swimming is not advised due to strong current
Be cautious of driving in too far to prevent vehicles from being stuck in the soft sand
Bring sunscreen
Bring plenty of water and food since you will be 30 minutes away from anything
Be sure your vehicle gas level is at least 1/2 tank (full is much better)
Bring a camera and take in the beauty
View more pics from my Visit Lana'i 2012 adventure: Views from Lana'i
More Reading:
Shipwreck Beach – Kaiolohia, Lanai
Lana'i Island