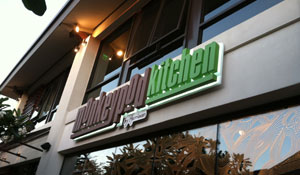 After three times of visiting Monkeypod Kitchen in Ko'Olina, I figured it was time to finally share this wonderful little "secret" of a place located on Oahu. Opening in December of last year, Monkeypod Kitchen is the work of Hawaii Chef and restauranteur Peter Merriman. This unique experience is one of two Monkeypod's by Merriman (the other being in Wailea, Maui) and caterers to both tourist and locals alike.
The food at Monkeypod Kitchen is delicious, prepared with perfection and delivered from kitchen to table in very little time. Other great points of Monkeypod is that it delivers 36 craft brews on tap served at 29 degrees, kiawe wood oven pizza, and live music twice a day to get you in the local Hawaiian style mood.
My personal favorites, after having been there three times, are their pizza of course (Proletariat my #1), the Bulgogi Pork Tacos and the Dry Mein. I also cannot forget to mention that Monkeypod supports local grown produce, organic and sustainable farming, ranching and fish practices and they use only grass fed beef, renewable fish varieties and hormone free poultry, making them a true supporter of buy local, eat local.
Lastly if you're looking for a good deal be sure and check out their happy hour every day from 3:00 PM – 5:30 PM (except holidays), where you'll find drink specials, 50% off appetizers and 9$ pizzas (excluding Bourgeois).
Wood-Roasted Chicken Wings & Proletariat Pizza
Photo Credit: 808Talk
Bulgogi Pork Tacos
Photo Credit: 808Talk
Dry Mein
Photo Credit: 808Talk
Strawberry Cream Pie
Photo Credit: 808Talk
Outdoor Seating
Photo Credit: 808Talk
Bar & Indoor Seating
Photo Credit: 808Talk
Monkeypod Kitchen by Merriman
Two locations in Hawaii:
Oahu – Ko'Olina
Ko Olina Station 92-1046 Olani Street, Kapolei HI 96707


Driving directions: http://www.monkeypodkitchen.com/ko-olina/directions/
Ph (808) 380-4086 or Online Reservations
Hours:
Mon-Sun 11 AM – 11 PM (Happy Hour 3 PM – 5:30 PM)
Maui – Wailea
10 Gateway Place, Unit B-201 Kihei, Hawaii 96753


Driving directions: http://www.monkeypodkitchen.com/wailea/directions/
Ph (808) 891-2322 or Online Reservations
Hours:
Mon-Sun 11:30 AM – 11 PM (Happy Hour 3 PM – 5:30 PM & 9 PM – 11 PM)
Visit Monkeypod Online: http://www.monkeypodkitchen.com